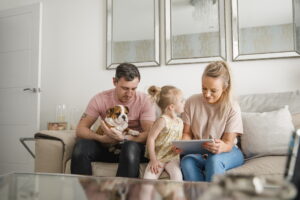 Every air conditioner in existance is a "forced-air" cooling system, while heating systems can be forced-air or radiant. The difference is the fact that a forced-air system relies on cooling or heating the air in your home and sending it through ductwork or equipment to the rooms of your home. Without proper airflow, it becomes nearly impossible for your home to cool effectively.
So, if we're going to evaluate the condition, efficiency, and reliability of your air conditioning system, we need to talk about the airflow in your home.
Do you feel like cool air can get to every corner of your home? Or are you only huddling in the living room on hot days because that's the only space that can reliably get cool? If the second option sounds more realistic then you might need our help with AC repair in San Ramon, CA.