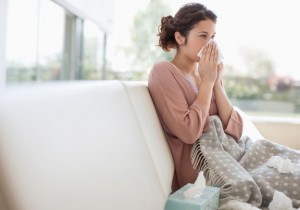 While many parts of the country are still dealing with heavy snow and not even thinking about springtime yet, some warming trends in our area are a good reminder that spring isn't all that far off. While many look forward to this time of the year—after all it does get quite beautiful in this area of California—it's a source of concern for those of us who suffer from allergies and/or asthma.
The air quality in our area isn't as bad as some smoggier conditions down south, but still, springtime kicks up dust, dirt, pollen, and other debris. And according to WebMD, your indoor air quality can actually be worse than that outdoors. Fortunately, there are a number of Pleasanton, CA indoor air quality products and services that can help with this issue.
But in addition to investing in the right solutions for your indoor air quality problems, there are other steps you can take. We've shared 5 methods below.
1. Replace Your HVAC System Air Filter
True, the air filter that comes standard with your HVAC system is not actually intended to improve your indoor air quality. Rather, its purpose is to protect the inside components of your system from dirt, dust and other debris. However, a clogged air filter can certainly cause this debris to back up into your living space, increasing your chances of inhaling these contaminants and making you ill.
2. Close Your Windows
The prospect of letting a breeze flow in through your home on a cool spring day is of course highly appealing. However, if you are an allergy or asthma sufferer, this could be doing more harm than good. Keep in mind that air leaks around your windows and doors can also allow pollen and other allergens to escape into your home.
3. Clean Dust from Your Home
Even if you have a high efficiency air filter, some dust will end up settling on the surfaces of your home. While the right air filtration system will certainly cut down on allergy symptoms, it's up to you to remove dust and other particles from your furniture, drapes, and blinds.
4. Check the Current Pollen Count
Just this past weekend, pollen count was at a significantly high level. If you noticed your allergy symptoms increased recently, this is probably why. Use a website such as pollen.com to check current levels, and try to stay indoors and utilize your indoor air quality product, while keeping windows and doors closed and sealed.
Remember, the best thing you can do to combat harmful and uncomfortable allergens is to invest in a whole-house air filtration or air cleaning system. This will help remove the majority of particulates from your indoor air that are aggravating your symptoms or making you ill. We are happy to discuss the numerous air quality solutions we have available!
Contact Comfy Heating & Air Conditioning Inc. today for all of your indoor air quality needs and concerns, as well as superior heating and cooling services throughout the San Francisco Bay area.