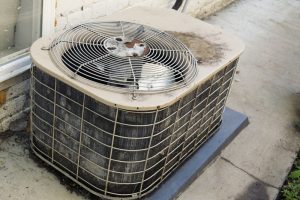 Summer is officially here! While it's been unseasonably cool in recent months—save a real quick heat wave a couple of weeks ago—we will soon enough be using our air conditioners on a daily basis.
So, is yours up to the job of keeping you cool all summer long? If you're doubtful, then now is the time to consider if you'd benefit from an air conditioner upgrade, rather than waiting for it to break down completely in the middle of summer (and therefore needing to suddenly replace it in the middle of a baking hot day).
We don't want you to be without your air conditioner any longer than you need to be during the hottest time of the year. Read on for some signs that it is probably time to replace your AC, and give us a call to schedule installation.
Sign #1: Your System Is Old
Do you have preventive maintenance done on your cooling system each year? With regular maintenance, your air conditioner will run more efficiently and effectively throughout its lifespan, ensuring it makes it through that lifespan.
After all, an air conditioner with annual maintenance can last about 10–15 years. What this means is that if your system is more than 15 years old, it's probably time to at least consider replacement. After 15 years, cooling systems begin to accumulate chronic problems that will have you calling for frequent, potentially costly repairs … which brings us to our next sign.
Sign #2: Your System Needs Frequent Repairs
Needing an air conditioner repair every once in a while is not a big deal. Every few years you'll probably need something in your air conditioner fixed, even if you have routine maintenance done annually. However, if you find yourself calling for air conditioner repairs multiple times a year, it's time to talk to a pro about your replacement options.
This level of frequency in breakdowns and problems is usually due to the system finally succumbing to years of wear and tear. The various components inside of it will begin to fail in groups, causing the frequency and cost of repairs, as we mentioned above, to increase substantially.
Continuing to repair a system that needs replacement is a frustrating task. Better to replace it now, and progress into summer with a new system you know you can rely on!
Sign #3: Your Air Conditioner Costs More to Operate
As your cooling system ages, it will slowly start to lose its efficiency as the components in it wear out. At first, this efficiency loss won't be noticeable. Eventually, however, it will start becoming so severe that the cooling system will be forced to operate for longer periods of time in order to compensate. This longer operating time will subsequently drive up the monthly costs of using your system.
If your air conditioner costs more to run than it did this time last year, or than it does in comparison to your neighbors, then it's a sign it's not running efficiently for some reason. If your air conditioner is old, the reason is probably that you need a new one.
For professional air conditioning services in San Ramon, CA, contact Comfy Heating & Air Conditioning Inc.