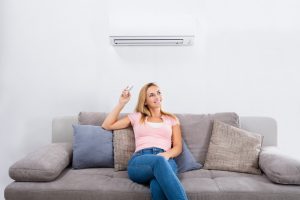 One of the best options for cooling and heating homes in our area is with a ductless system.
Instead of operating through a network of ducts connected to an indoor handler and evaporator unit, ductless systems break up the indoor unit and blower fans—air handlers—to distribute the system in modular units throughout the home, with each air handler mounted up high on the rooms they're intended for.
We could go on forever about why going ductless is a good idea for most homes. But it's also important for us to be honest and note, they can have unique repair needs. Now, we can't go on without saying these repair issues are a lot more likely if the system wasn't installed correctly to begin with, or if it is improperly maintained. Regardless, whether you're thinking of installing a ductless system for the first time or you've already had a ductless system in place for a while, it's important for you to know of these possible issues. Read on!
Water Leaks behind the Air Handlers
Each of the wall-mounted air handlers of the ductless system has a series of connections routed through a hole behind it—this includes a power line, refrigerant line, and a condensate line. The condensate line is responsible for removing water moisture from the cooling process so it doesn't enter your home, instead.
These lines can leak. If this occurs, water will begin developing between the back of the air handler and the wall, and then what eventually happens is the wall material weakens, causing the air handler to rip away and fall off. This damages the wall, of course, and then probably damages the air handler, too. If you do notice any signs of water damage surrounding an air handler, be sure to call for repairs right away.
Broken Air Handlers
This can actually be considered somewhat of a benefit when it comes to ductless systems. If a single air handler stops working due to a failed motor or some other problem, the rest of the air handlers throughout the house will still continue to run. The only part of a home that loses cooling or heating is the one with the broken air handlers.
So, if one of your units stops working you should definitely call for prompt repairs. But in the meantime, you can hang out in another room that has a functioning air handler.
Leaking Refrigerant Lines
Okay, so this last problem isn't that unique to ductless systems, as any refrigerant-based HVAC system can experience refrigerant loss. It's first important for us to mention here that refrigerant loss is never normal—it means you have a leak, and that leak needs to be located and repaired ASAP, before it causes detrimental problems to the system.
The problem with a refrigerant leak in a ductless system is that it can be even more hazardous, especially if it happens right behind one of your wall-mounted air handlers. It would expose you and your family to potentially dangerous fumes. If you suspect you have a refrigerant leak (signs include a loss of cooling power and a hissing or bubbling sound) please be sure to call our team right away.
When you need quality service for your air conditioning in Hayward, CA, look no further than Comfy Heating & Air Conditioning Inc. Contact us today!