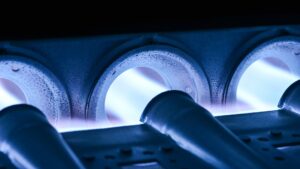 Why is our team called "Comfy Heating & Air Conditioning Inc.?" Well, it's basically because our main priority is keeping you at home comfortable. This isn't just in regards to temperatures, but this relates to your heating bills, the frequency of heating repairs, and other things.
If your heater isn't working with you for one of those aspects, then we'd like to urge you into considering replacing it with one that does. As your comfort specialists (seriously, it's in our name), we work with each homeowner to get their own unique heating needs met. Your home is different from your neighbor's, and we completely understand that.
Let the experts on HVAC in Hayward, CA guide you on the different heating options you have available. We'll talk about what systems can work for your home, and why you should trust us to have them installed and repaired.
Furnaces
Are you looking to replace your old furnace? Or perhaps it's not that old, but it's starting to cause you more trouble than it's worth? If you're not really interested in any other technology, and you'd like to save a bit of money on the initial installation, then why not invest in a newer furnace? Furnaces are inherently safe, and they produce heat at high levels of efficiency. The AFUE rating of furnaces that are built these days (Annual Fuel Utilization Efficiency) is approaching a 1:1 ratio—which means you're getting steady heat for every amount of fuel that's burned. Don't upgrade if you don't want to, we can help you with a new furnace installation.
Heat Pumps
Heat pumps operate differently in how they approach heating. Heat pumps function like air conditioners, they cycle refrigerant which moves heat from one location to another. They actually can provide cooling and heating for this exact reason! They're becoming more widely accepted these days as quality heating systems for homes that need an efficient solution.
If it runs like an air conditioner, then how does it heat your home? Well, it might be easy for an AC or a heat pump to draw heat out of your scorching home in the summer, but it's still relatively easy to draw heat from the outside and bring it inside during a mild winter. Just because it feels cold outside doesn't mean there isn't heat to be moved and utilized!
Ductless Heat Pumps
Ductless heat pumps work like your average heat pump except for one major difference—they don't utilize ductwork! If you've been meaning to get a heating system that doesn't require the use of air ducts, then invest in a ductless heat pump today. They're incredibly efficient, affordable, and effective at keeping homes comfortable.
Choose Us
We get that you might have your "usual" HVAC technician that you call for this kind of thing, but we want you to approach the question of why. Do they offer free estimates on new installations? Do they offer up to $1,000 in rebates on efficient heating systems? Well, we do. So maybe it's time for a change when it comes to the installation of a new system.
Call Comfy Heating & Air Conditioning Inc. to get your home comfortable again.