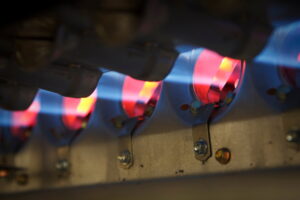 This is a question we get from homeowners pretty often. If it's not a question you've asked a professional before, then you might want to add it to your list of questions. And, if you're one of the many homeowners who doesn't even know what the heat exchanger is, then you're in the right place!
We don't discriminate in this blog against those familiar or unfamiliar with HVAC technology. All we're concerned with is providing quality heater repair in Oakland, CA. In order to do that, we need to educate homeowners on the most sensitive component of their heating system—the heat exchanger.
Let's talk in-depth about what a heat exchanger is, how it works, and how you can tell if there's something wrong with it. Call us by the time you reach the end of this blog so we can help relieve your problems.
Your Heat Exchanger
The heat exchanger is responsible for exchanging heat between the combustion chamber of the furnace and the chamber with clean air that will be sent to your home. Think about all the fumes that come from your car when you run it; they all need to be vented out so you don't breathe in those toxic chemicals. Your furnace works the same way, except with a heat exchanger to save the heat which is the most important part of your heating system.
When your heat exchanger encounters problems, like a crack or a hole, those harmful fumes can leak into your indoor air and cause major problems. In the case of gas leaking, you can see a fire hazard turn your home into a dangerous place. This kind of problem can also leak carbon monoxide which is harmful and even fatal to breathe in.
What Can Happen?
So, when we're thinking about whether your heat exchanger is okay, it's important to look at what can happen to it.
It can get cracked. Has your heater been rattling over the past year? This rattling might not seem like much of a problem, but it could lead to a crack in your heat exchanger. This is a serious problem.
It can lose structural integrity. Over time and due to a lack of maintenance, a heat exchanger could lose its structural integrity from heating up and cooling down over and over again. Only yearly maintenance can get at this problem properly and allow a professional to assess the condition of this component.
It can get old. A furnace that's getting too old, beyond 10 years in age, could be a hazard to run. The heat exchanger is not meant to last much beyond this and could quickly lose structural integrity if you're not careful. It might be time to think about furnace replacement.
It can get dislodged. Sometimes gas furnaces can boom as a result of delayed ignition from dirty burners. This booming is a powerful force and can dislodge or disrupt your heat exchanger to the point where it starts leaking harmful fumes into your indoor air.
Give the team at Comfy Heating & Air Conditioning Inc. a call. We can help with your furnace problems.