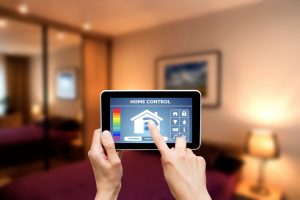 The short answer to this question is yes. The long answer is a bit more complicated than that, but we'll get into the specifics in a second. Basically, smart or Wi-Fi thermostats are a huge boon on your efficiency and are the new way to run your HVAC systems in the 21st century.
By running intricate reports, increasing your convenience, and helping you set programmable temperatures based on certain weather conditions, a smart thermostat can help you save money and make your life so much easier.
If you're the kind of homeowner that likes looking for ways to increase your savings when dealing with HVAC service in Oakland, CA then you'll absolutely enjoy some of the thermostat information we're about to talk about.
Benefits of a Smart Thermostat
Before we try to decide if a smart thermostat is right for your home, we need to talk about the unique benefits that such a system provides! Thermostats function as the brain of your HVAC system, so it makes sense that you'd want one capable of running reports and retaining valuable information that can be used for budgeting purposes.
Running Efficiency Reports. What does a smart thermostat report look like? Well, imagine knowing exactly how much fuel or energy is being consumed by your heating or cooling system! Your fuel consumption could easily be converted to the amount of money you're spending, and at that point, your smart thermostat is basically telling you how efficiently your system is running. When you start to notice trends you don't like, give an HVAC technician a call to schedule some maintenance or targeted repairs to increase efficiency to your standards.
Increased Convenience. Little feels worse than departing on a week-long vacation only to remember that you left your thermostat higher than it should be. This usually translates to extra money being spent on fuel consumed that could have been avoided. Well, with a Wi-Fi thermostat, you can control the temperature of your home from the touch of a smartphone or tablet computer, which means you can always control your energy usage—even when you're not home!
Programmable Conditions. When you're not home, it can be a hassle trying to control your home's temperature every day. Especially with temperatures in our area that can fluctuate between the need for heating and cooling in the span of a day, having a responsive thermostat system can make a huge difference. When you utilize a smart thermostat, you can set it to react to weather conditions automatically, so you don't have to lift a finger! Switch from heating to cooling automatically with the use of a programmable smart thermostat.
The Verdict
So, is a smart thermostat worth it? Based on convenience alone we'd say yes, but the truth of the matter is that a smart or Wi-Fi thermostat provides so many additional benefits that it is almost always worth the extra cost. As one of the more affordable parts of your heating and cooling system, we think it's time to invest in a smart thermostat today.
Give our team a call at Comfy Heating & Air Conditioning Inc. if you're ready to jump into the 21st century with smart thermostat technology!