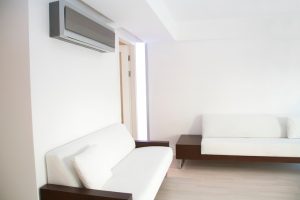 If you're in the market for a new air conditioning system, you have a lot of different options to choose from. Each system has its own set of advantages, suited to different individual circumstances. Before you make any decision about installing a new system, you should have a look at the advantages each system has to offer. Let's take a look at some of the ways that you can benefit from installing a ductless mini split system.
How Ductless Systems Work
A ductless system doesn't use ducts, as you may have guessed. Instead, an air handler is installed in each room that is to receive air conditioning. Each air handler has its own thermostat, and only conditions the room in which it was installed. Up to four indoor air handlers can be connected to a single outdoor condenser unit. Because ductless mini splits are heat pumps, they are able to act as either heating or air conditioning systems.
Benefits Ductless Systems Offer
Ductless mini splits offer a lot of unique advantages over more traditional climate control systems. For example:
Energy Efficiency: Ductless systems are more energy efficient than many other kinds of climate control systems for a number of reasons. For example, they are more energy efficient than other heating systems because they don't have to combust fuel of any kind to generate heat. They're more energy efficient than centralized climate control systems because they don't have to worry about duct leaks. If you want to save money on your annual operating costs, a ductless system is worth looking into.
Comfort: Homeowners who have ductless systems installed in their homes often report being more comfortable than those who have other climate control configurations. Central climate control systems apply the same level of output throughout the entire home, often creating hot and cold spots in the process. Ductless systems allow a much more granular level of control over the climate in various rooms, which makes it easier to stay comfortable. It also means you can set your ideal temperature without bothering anyone else in the home.
Maintenance Considerations
You probably know that climate control systems operate best when they receive regular maintenance. For most kinds of systems, this means having preventive maintenance done once a year. Ductless systems, however, are a bit different. The reason that other systems only need maintenance once a year is because they only have one highly stressful season out of the year. Ductless mini split systems are used throughout the year, since they act as both heaters and air conditioners. That means they wear down twice as quickly, and need maintenance twice a year in order to compensate. So, make sure that you have a professional examine your ductless system once during spring and once during fall.
Comfy Heating & Air Conditioning Inc. provides comprehensive ductless mini split installation services in Danville, CA. If you need a new ductless system installed in your home, contact us today to schedule an appointment. We'll find the perfect ductless mini split solution for your home.