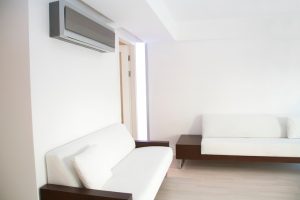 Summer is just around the corner, and people are starting to prepare their homes for the coming heat. For some, that is going to mean installing a new air conditioning system entirely. If you're one of those people who is looking for a new air conditioner, you should have a look at the various options on the market. Just because your last air conditioner was a central AC, that doesn't mean that your new one has to be. Have a look at some of the benefits that a ductless system has to offer you this summer. And if you need a new ductless system installed, call us. We offer comprehensive ductless AC installation services in San Ramon, CA and we will make sure you get the perfect ductless air conditioning system to meet your needs. 
Differences in Operation
The main differentiating factor between ductless systems and central air conditioners is that ductless systems, well, don't use ducts. Yes, we know it's terribly obvious from the name and we didn't really need to write it, but if we didn't it might come back to bite us later somehow. You'd be surprised at some of the letters we get.
Anyway, instead of using a central air handler to blow air throughout the home during operation, a ductless system will use smaller air handlers to condition individual rooms. Up to four of these smaller air handlers can be connected to a condenser coil outside. Now, since people are likely not going to install two or three different ductless systems in their homes (although you could if you wanted to) the limited air handlers often mean that the system is used to condition larger areas rather than private rooms. The master bedroom might have its own air handler, but the other spaces would be places like the living room, dining room, or bathroom. Of course, this depends entirely on the configuration of your home and which areas are more important to you.
Ductless systems are heat pumps, which means that they can offer both heating and cooling functions on demand. Each air handler has its own thermostat, which allows it to operate mostly autonomously from the rest of the system. This allows you to control the ideal temperature for different rooms in the home without affecting the other rooms.
Advantages of Using a Ductless System
There are a few different unique advantages to using a ductless system over a more traditional centralized model. First, the ability to use the ductless system for both heating and cooling functions is a pretty great way to save both space and money. Second, the added control over the climate in each part of the home is a big draw for homeowners who are tired of warring with their housemates over a single thermostat. If any of these advantages sound attractive to you, consider calling up your trusted technician and having a new ductless mini split installed in your home.
 Schedule an appointment with one of our professional technicians at Comfy Heating & Air Conditioning Inc.