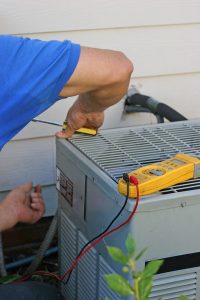 Air conditioning systems are not cheap. No one wants to be replacing theirs every couple of years. You want your air conditioner to last as long as possible, so you can get a return on your investment. The best way to do that is to have the AC checked out on a regular basis, and promptly repaired if anything is found to be wrong.
No amount of repairs or maintenance can make an air conditioner last forever, though. Eventually, you will need to have a new system installed. Not sure if you're at that point yet? Have a look at the following symptoms that indicate it's time to have a new air conditioner installed in your home.
High Monthly Costs
Your air conditioning costs are obviously going to go up during the summer, when you're using it a lot more. Even so, you should be cautious about any sudden spikes or other increases that don't match with how much you're using the system. The older an air conditioner gets, the more of its efficiency it loses to wear and tear. As the wear on the system increases, it will have to operate for longer periods in order to keep the home cool. This may not be noticeable at first, but will eventually lead to your monthly costs rising considerably. At that point, all you can really do is replace the system.
Frequent Breakdowns
Your air conditioner will likely break down at least a couple of times before you have to replace it. Things happen, and no system is completely immune to problems. You shouldn't need to repair your air conditioner multiple times a year, however. Breaking down that frequently means various parts in the air conditioner are succumbing to wear and tear, and are failing in groups. This will only get worse the more you use the system, and nothing can really be done about it beyond replacing the entire thing. You can keep replacing individual parts if you want, but it would cost a lot more at no real benefit to you.
Old Age
The average air conditioner lasts about 10–15 years before it starts to develop problems like those we've already discussed. Most of the issues that lead to air conditioner replacement, in fact, are related to the age of the system. Older air conditioners frequently develop chronic problems that cut into the system's cost efficiency. The more these problems pile up, the more expensive it will become to keep using the air conditioner. If your air conditioner is older than 15 years, we highly recommend you consult with a professional about installing a new system as quickly as possible. The longer you wait, the more money you're going to end up spending keeping an old system alive instead of installing a new one that doesn't have those issues.
Comfy Heating & Air Conditioning Inc. provides full air conditioning installation services in San Ramon, CA. If you need a new air conditioner installed in your home this summer, contact us today to schedule an appointment. We can find the best air conditioning solution for your home.