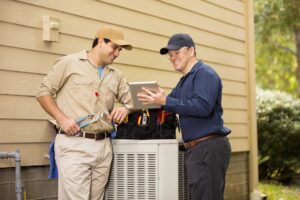 We're going to switch gears today and talk a bit about a lesser-known topic in regards to AC maintenance. We've written a lot in the past few years about how important maintenance is, and we can reiterate right now that it's a vital service for your air conditioner. It's going to keep your warranty from becoming void, it improves efficiency levels, and it even helps your system run smoothly.
AC maintenance in San Ramon works. It just does! So if you're on the fence about maintenance, or you'd like to talk to a professional to learn more about it, then you can always get in touch with our team.
However, this blog post is going to focus on a different topic. We want to shine a light on a common problem with AC maintenance that homeowners can easily forget about… until it's too late!
Regular, or Routine, Maintenance
Air conditioning maintenance isn't like a repair or installation. The value of it doesn't just come from getting it done, it comes from getting it done regularly. This is something that's easily forgotten about but can be a huge problem for homeowners down the line.
Sometimes we meet customers that mean well, but they'll tell us that their air conditioner hasn't been maintained in several years. Then, they might be surprised by the problems that have sprung up during that time. It's not their fault since nobody told them about the need for regular maintenance, but this problem is entirely avoidable!
When you join a maintenance program, make sure you do so with the intent that you're going to get it done every year. Then, you'll get the full value of your maintenance agreement and system warranty.
Scheduling for the Future
Look into the future as best you can, perhaps utilizing a calendar or some kind of reminder system, and make sure that you're going to be in the same place next year. If so, then we highly advise you to put it on your personal radar that you'll be investing in maintenance then too.
Maintenance is like an oil change for your car, it's just something that has to be done every once in a while. You can skip appointments, but that's just going to make things harder for you and more expensive in the future!
Maintenance Plans Are Long-Term Resources
Think of your maintenance plan as a resource. The yearly cost you pay for it isn't going to immediately pay for itself. But over time, the longer you stay part of a maintenance program, the more value you'll get from it. It's kind of like being a member of a club or a gym. The price isn't per appointment, but more for the benefits you'll gain over a long period of time while using the system.
The difference with a gym or a club and your AC maintenance program is that you'll be depending on your air conditioner way more. Take this to heart and make sure you have a trusted professional on your side to provide effective maintenance services.
Contact Comfy Heating & Air Conditioning Inc. to sign up for a maintenance appointment.