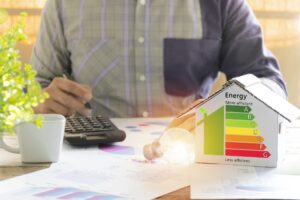 Are you looking to purchase a new air conditioning installation in Livermore, CA? Or perhaps you're already the owner of one but you're looking for some local tips on how to run your system better? Well, come one and all, this blog post is a look at the direction we think this industry is headed in, and what's different about AC systems now vs 10 or 20 years ago.
When air conditioners were first developed, the most important aspect of them was cooling. The cooler an AC could make your home, the better it was. Energy was cheaper back then, so it was just a matter of hooking the system up and getting the most powerful unit on the market.
Now, air conditioners are more than capable of cooling our homes properly. The only difference is our widening carbon emissions and the sheer cost of electricity these days. That's why things are starting to shift in the HVAC industry, and why efficiency is the next big focus for homeowners.
SEER, HSPF, and ENERGY STAR
As we move further into the 21st century, carbon emissions and energy efficiency are the number one most important factor when purchasing any appliance. Efficiency is so important because of just how much money we can spend monthly or yearly on energy costs when they go up or down. Being aware of how much your AC costs to run is going to give you insight into how you can properly budget in the future, but also when you're purchasing a new system.
This leads us to the SEER, HSPF, and ENERGY STAR labels that are designed to help consumers choose their next AC wisely. Each measurement is designed to help you understand how efficient your air conditioner is.
SEER ratings. The SEER rating of an air conditioner is the "seasonal energy efficiency ratio" that we use to determine how efficient a system is. It's a maximum efficiency rating, designed to give you an average maximum of how efficient your air conditioner can run when it's maintained properly. The higher the SEER number is, the more efficiently it will run and the less you'll have to pay!
HSPF ratings. HSPF ratings are similar to SEER ratings, but they're specific to heat pumps. They are the "heating seasonal performance factor" and they're used to determine how efficient a heat pump might be during the heating season. You'll want to match this number with the SEER rating of your heat pump to ensure you're getting a high enough efficiency level for both the heating and cooling seasons.
ENERGY STAR seal. ENERGY STAR is a program run by the EPA and US Department of Energy, designed to help customers choose more energy efficient air conditioners and heat pumps. If your prospective AC or heat pump system has an ENERGY STAR seal of approval, that's usually a good sign and it signals the system has passed certain energy efficiency requirements put in place by the government.
Don't hesitate to call our team and investigate your most efficient AC or heating options.
Comfy Heating & Air Conditioning Inc. can help you choose the most efficient system for your home. Call us today!