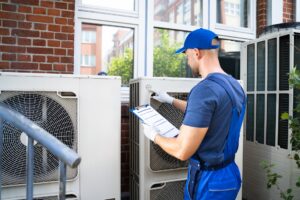 Installing a new air conditioning system is a big investment, which is why it's important to hire the right contractors for the job. What happens far too often is homeowners just type in "air conditioning installation near me" and then they're lost.
There's a sea of companies all on the front page, so how do you know who to pick? Who's going to do the best job and ensure a proper installation? Well, let's help you find out.
Search Local First
Why does local matter? Because a local company will know what to recommend based on the average weather, humidity, and what unit makes sense for your home.
Local companies (like us) build their reputation over time. This brings in a flood of positive reviews and anecdotal information which you can find, inspect, and determine if that company is right for you. These can help you:
Find out if a company is under new management. Sometimes this is a good thing, but it means you need to disavow all reviews prior to the new management start time.
Unfiltered information from people who've actually had installations done. It's tricky to pick out the genuine responses, but if you can, the insight is invaluable.
Figure out if the customer service is right for you. You'll have someone in your home for multiple hours, perhaps an entire day, just to install this unit. Nobody should feel awkward in their own home–anecdotal information can tell you if a company's installation experts are polite or not.
Another reason to go local is because you can get unbiased recommendations from family and friends who've actually used local companies and can speak to their pros and cons. Who's going to give you a better recommendation than your inner circle? Nobody.
Request Multiple Quotes
Let's not pretend that money isn't a factor. A new air conditioner isn't cheap and different HVAC companies will give you different quotes depending on what you need.
Get a detailed breakdown of the cost and figure out how to budget it. It's important to get the whole scope of the project so ask for:
Labor Costs: Someone has to install the AC and get paid for it. Labor costs for this specialized skill can vary so it's important that you ask about what to expect.
Installation Price (Including Unit): This is where the sticker shock comes in. The installation process plus the actual cost of the air conditioner itself.
Additional Fees: We don't like hidden fees one bit, but some companies do. If you receive a quote and you can't break it down into every individual cost that they tell you, it means there are hidden fees. Be bold and ask.
Don't Settle for Less Than the Best
We might be a bit biased here, but the online reviews don't lie. We're ready to help with your next AC installation project, no matter what size it may be. Call us today and we'll walk you through the process.
Contact Comfy Heating & Air Conditioning Inc. today to schedule your next air conditioner installation. It's time to prioritize your comfort.