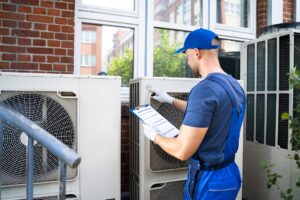 We've all dealt with people in one business or another and thought, "They're not on the up-and-up." You get that suspicious feeling in the pit of your stomach, and you should never ignore it.
But instead of focusing on the bad, let's focus on the good things that air conditioning contractors do to show how professional and trustworthy they are. That way, you can find your next contractor without worrying about it.
#1 Transparency: Sometimes it can feel like you're being sold to. A good air conditioning contractor is transparent about what's imperative, what can wait, and speaks from their expertise. You shouldn't feel like you're being sold to.
#2 Problem Solving: You have a problem, they're supposed to solve it–it's as simple as that. If they can't provide a solution, it feels like a waste of your time. Not every problem will be clear and on the nose, but if they can figure it out anyway, you're in good hands.
#3 Good Online Ratings: Website ratings, GMB ratings, and anecdotal information are all important when choosing an air conditioning contractor. Keep in mind that individuals are more likely to complain online than they are to sing praises, so be sure to read as many as possible before making your decision.
#4 Clear and Effective Communication: No mumbo jumbo. Clear, concise details of what's wrong, how to fix it, and your options. That's what you want to see.
#5 They Respect Your Time: Good air conditioning contractors understand that this is all an inconvenience to you and are respectful of your available time.
#6 No Pressure: Being pressured into making an immediate choice is never a good feeling. Good air conditioning contractors understand that you want to keep your options open and may need to ease into a decision.
#7 Helps You Understand Options: It's not just a linear path. You're given multiple options so you can choose what works best for you, and any good contractor will present all the options that you have available. They may make their recommendations, but that isn't a hard sell.
#8 Licensing: If a contractor isn't licensed to work on your air conditioner, then they really shouldn't be handling something dangerous like that in your home. Good contractors are licensed and insured so there's no liability on you.
#9 Accessibility: Are they easy to reach? In the event that something goes wrong after they leave, can you contact them immediately to declare an issue? Accessibility is key.
#10 Focuses on Solutions: While some contractors could easily focus on the number of hours they spend on a job, a good air conditioning contractor is focused on finding the right solution for you. Whether that takes a short amount of time or it's a half-day affair.
Not every contractor is going to be perfect. Take each of these 10 signs of a quality air conditioning contractor with nuance in mind.
Contact Comfy Heating & Air Conditioning Inc. today to schedule air conditioning contractors and get ready for your next AC installation.