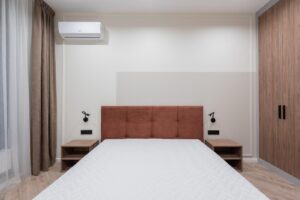 When it comes to technology and innovation in air conditioning, we've definitely come a long way. From split units to central air conditioning systems and even portable ACs, the wide range of options today can definitely make it challenging for you to invest in the right one. Don't fret though. This blog will help you through.
If you are looking for an air conditioning installation in Fremont, CA, Comfy Heating & Air Conditioning Inc. has your back. Read on to explore your AC options!
1. Central ACs
If you have a lot of rooms that you want to cool simultaneously, then a central AC might be the best option for you. These systems are expensive to install and require more space for their indoor and outdoor units; however, they are more efficient than having multiple smaller AC units running in separate rooms.
Central ACs are also among the easiest AC systems to maintain and operate silently which makes them perfect for residential use.
2. A Centralized Heat Pump
Heat pumps operate like central air conditioners except with the bonus of being a heating system in the wintertime. They utilize your ductwork and push air through your vents to the different rooms of your house.
Think about this option if you're ready to replace both your old AC unit and your heater. Heat pumps are incredibly energy efficient as well, and they'll do an excellent job at keeping you comfortable while also keeping your energy bills low. Keep reading below for more heat pump options as well!
3. Mini-Split
Mini-split ACs are highly efficient because there are fewer energy losses in the system. There are more energy-efficient inverter compressors in these ductless units, which further improves the system's efficiency.
A lot of mini splits have smart functionality, which makes it easier for you to control them remotely through your phone. This feature is perfect for anyone who wants to power on their ACs on their way back from work.
The downside to mini splits is that they take away from your wall's aesthetics, they need frequent maintenance, and they cost more to cool the whole house as compared to a central AC unit.
4. Floor-Mounted AC
Like mini-splits, a floor-mounted AC is perfect for anyone who does not need to cool their whole house. While these units are easier to clean filters on, they take up floor real-estate, which can be an issue in smaller rooms.
Be mindful that floor-mounted units are not suitable for larger rooms, and furniture can block their airflow.
Time to Get Comfy
Your AC choice largely comes down to these 4 things:
Cost of installation.
Maintenance costs.
Size of your building.
Energy efficiency.
Regardless of what cooling option you choose, a contractor has to install it. This is the best choice for long-term results that keep costs low.
For any AC installation issues or concerns you have for your home in Fremont, CA, make sure you call the experts at Comfy Heating & Air Conditioning. We'll help you keep your costs to a minimum!
Choose Comfy  Heating & Air Conditioning for heating and air conditioning installation in Fremont, CA. You can pick from a number of available options, and if you need help with picking the right AC, or need repair services, we have your back!