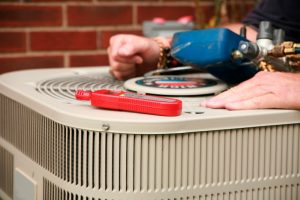 It's easy to dismiss a recommendation given by an HVAC professional, especially for a service you don't really need "right now." Unless something is preventing you from using your air conditioner effectively—like a loss of cooling power—you could be really tempted to put off your air conditioning maintenance tune-up.
We urge you to reconsider, though. Just like maintenance for the car you drive, routine air conditioning maintenance is essential for the performance of your cooling system, in addition to repair prevention. And as your trusted resource for professional maintenance services, we have a responsibility to share the benefits and necessity of routine cooling system tune-ups with you.
What Maintenance Does
If you've never scheduled maintenance for your air conditioner before, it's likely you don't know much about it. Maintenance, or air conditioning tune-ups, is when our technicians come and thoroughly clean the interior components of your HVAC system (whether it's your AC or your heater). This ensures that the system is able to perform as efficiently as possible.
Additionally, we inspect the system and check for any components that need adjusting, repair, or even replacement. Ultimately, tune-ups serve to improve the longevity and operational performance for your cooling system, and we can't understate its importance.
When You Should Schedule Maintenance
Generally speaking, we recommend that you have your air conditioning tune-up done right before you need your system the most. So, early spring (now) is typically the best time. In our area, this really is the best time since we know May is a toss-up weather-wise. We could see the cooler temps of spring for a while, or we might soar right into our summer temps.
That said, the time of year you have your tune-ups done is less important than how often you have your tune-ups done. Maintenance tune-ups should be completed once a year, at least. If you have a year-round heat pump system, then this service is required every six months.
Maintenance Helps to Improve Comfort and Safety
Now, onto the benefits. One of the main reasons we so strongly recommend keeping up on your annual air conditioning tune-ups is for the benefit of your comfort and the comfort of your family, in addition to the functionality of the system itself. Over the years, your air conditioner will start performing less and less efficiently and effectively. Components start to deteriorate due to natural wear and tear, just like they would in your vehicle if you skipped car maintenance.
Tune-ups also keep you safe! Air conditioners, of course, are not inherently dangerous. However, they do have components that can be harmful, particularly if you try to do air conditioning repairs on your own. For example, refrigerant is the chemical that makes the cooling process possible. And if your system is leaking refrigerant, it will be harmful to your air conditioner but also to anyone who comes into contact with it. You're far less likely to have this problem if you keep up on your system tune-ups.
When you need service for your HVAC in San Ramon, CA, look no further than Comfy Heating & Air Conditioning Inc. Contact us today!