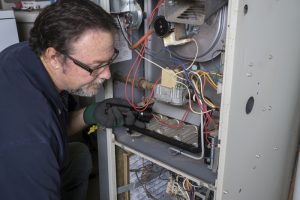 Temperatures are finally warming up a bit in our area, which means it's just about time to shut our heaters down for the season, schedule an AC tune-up, and start enjoying the comfort an effective cooling system can deliver. But wait, before we talk about shutting our heaters down—how did yours perform this past winter? Did it show any signs of struggle? Were you told it needed repairs, but have yet to take care of them?
Even if your heater is operating "okay," ignoring any sign of a heating system problem can cause it to turn into a much bigger issue, leaving you with a broken down heater next year when you need it the most. Depending on what caused your heating issue, you may even find yourself with air conditioning problems this spring and summer, by neglecting a repair need for your heater. Keep reading to learn some of the indications of heating system problems.
You've Noticed Drafts or Uneven Temperatures
Maybe you've noticed that your home isn't heating up as fast as it used to, or you find cold spots in certain areas of your home. If so, it could be that your heating system is declining in performance. However, it may be something else, like a miscalibrated thermostat or damaged ductwork. These latter issues will impact your air conditioner, too, so you want to handle them right away.
Your Heater Is Making Weird Noises
No matter how minor or mild the sound might seem, if your heater is making a noise you've never heard, then you have a right to be concerned. A few particular noises to have an ear out for include mechanical clanging or banging, hissing or clicking, or even just general noisy operation.
Your Energy Bills Spiked from Last Year
It's natural to watch your energy bills rise as winter approaches, and fall again during the transition of spring. However, what you shouldn't see is a sudden spike or dramatic increase in your heating costs. Especially if it's a significant increase over what you paid last year, or over what your neighbors are paying.
Your System Is Short-Cycling
This is when your heater turns on and off rapidly, never completing a full heating cycle. This increases the wear and tear on the system. It is worth mentioning here that if you have a relatively newer heater and have always experienced this problem, then your system is too big for the space it's installed in. We're happy to talk to you about your options, if this is the case.
We seem to be trending toward warmer temperatures now, but as you likely are very aware, we can always be surprised with a cold spell. If that happens, you want a fully functional heater on your side. If that doesn't happen and we truly are done with our heaters for the season, letting a broken heater sit in wait for six months can be just as detrimental as continuing to try to use it with repair needs.
For professional and reliable heater repair in San Leandro, CA, contact Comfy Heating & Air Conditioning Inc. today!