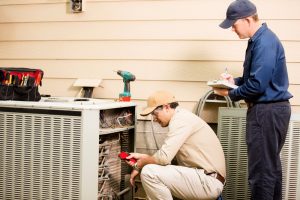 As spring progresses and we draw closer to summer, soon enough the nice, cool temperatures we've been experiencing lately will warm up to the point that we'll need to rely on our air conditioners on a daily basis. When that time comes, hopefully your AC will be up to doing its job. But this cannot be the case without San Ramon, CA air conditioning maintenance.
It's important to remember that, aside from ensuring your outdoor unit is cleared of obstructions and your air filter is changed at least once every 1 to 3 months, maintenance is something that should be left to the professionals. Fortunately, you needn't look any further to find qualified technicians for the job.
A Closer Look at Spring AC Maintenance
HVAC maintenance is similar to maintaining your car; just as you would ensure that your automobile was ready for a road trip before taking it on one, you want to ensure that your air conditioner is ready for the long haul of summer before the season arrives.
During the cooling season, your air conditioner accumulates a good amount of mechanical and other types of stress. Without annual maintenance, it will begin to suffer from a number of problems, including the following:
Inefficiency: Each year that an air conditioner misses its spring maintenance appointment, its energy efficiency will decrease by about 5%. This means in only a few years your cooling system will cost much more to run than it should, causing you to waste money each time it comes on.
Increased Repair Issues: A large majority of the repairs that an air conditioner might require over its lifetime are typically preventable if the system is regularly maintained. By cutting down on unnecessary repairs, you'll save money and enjoy more consistent AC performance.
Shortened AC Lifespan: Just like with your car, an AC system that isn't properly maintained will end up breaking down far sooner than it would have otherwise. The typical lifespan of a cooling system ranges from 10 to 15 years. One that misses tune-ups and inspections, however, might not even make it to half that age.
The Steps of AC Maintenance
There are a number of tasks that our HVAC professionals complete during your air conditioning maintenance appointment. It starts with inspecting all the major components of your system—including the thermostat—to find places where repairs may be necessary.
During the inspection, our HVAC technicians look for areas that require adjustments and cleanings, which guides the rest of the maintenance service. We'll also check on the refrigerant level to ensure that you aren't experiencing a leak—a problem that would be detrimental to your system without proper repairs.
Other maintenance tasks include cleaning the outdoor and indoor coils, lubricating moving parts of motors, cleaning out the condensate drain and pan, and tightening all electrical connections. Pending any follow-up repairs, after maintenance your cooling system will be in the best shape it can be to run through summer without problems.
To learn more about our comprehensive HVAC maintenance program, contact Comfy Heating & Air Conditioning Inc. today!