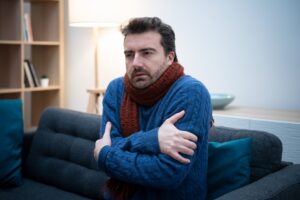 We're the experts on staying comfy. No, seriously, it's in our name. When it comes to HVAC technology, how it relates to you, and how you can better stay comfortable during a chilly winter season, then we're the team to turn to. Our team is professional, experienced, and we really know our way around these kinds of systems.
Okay, we'll stop tooting our own horn. But we're not joking when we say that we can help you stay comfy. Sure, you could only call us when you need heater repair in Hayward, CA on those odd years where something is wrong. Or you can do things like invest in maintenance services and follow these 5 tips so that your heater does a better job keeping your home cozy.
We're going to break down some of the important things to remember about using your heater this season.
Stay Comfy with the Help of the Comfort Experts
As we said earlier, we're the experts on saying comfy. That's why we've put together this list with three things in mind. We're concerned with maximizing your heating output, keeping energy and fuel bills at a minimum, and extending the timeframe between each repair that your heater requires. If we can achieve this, then we promise you'll be a happier and warmer homeowner.
Keep temperatures mild. Your home doesn't have to be 80°. While you might enjoy things on the warmer side, there's no reason why your heater has to do 90% of the work. Set your thermostat to a mild temperature (energy.gov recommends 68 degrees for maximum efficiency) and do your part to warm up past that. For instance, if your heater heats your home to 68°, you can use a combination of blankets, sweatshirts, wool socks, gloves, and other comfy materials to warm up and stay happy. This ensures your bills remain as low as they possibly can go, and it lightens the load on your system.
Utilize a ceiling fan. Ceiling fans when run in reverse produce convection. This works just like your convection oven does. Heat rises to the ceiling of your rooms naturally, which means your ceiling fan can push the heat back down and circulate it. You'll feel the warm air more and thus you won't need to turn the thermostat quite as high.
Sign up for routine maintenance. Routine maintenance is a wonderful tool to maximize the efficiency and effectiveness of your heating system.
Call us at the first sign of a problem. Problems can often compound into one another and "snowball" into a breakdown or an expensive fix. By calling us at the first sign of a problem, you're dealing with an issue head-on and probably for the cheapest cost.
Change the air filter. Air filters are an important component of your heating system. Make sure you change your air filter out every 1-3 months to ensure maximum efficiency. When you forget to change the air filter, your system can get stifled for fresh air and it can consume too much fuel or energy.
Comfy Heating & Air Conditioning Inc. has your back. Call us if you need help!