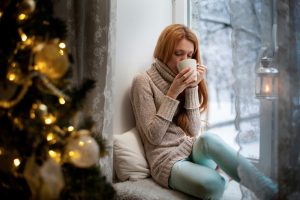 Well, our very first tip here isn't for something that's free—but investing in it will make your heater much more affordable in the long run. We're talking about heating maintenance. Maintenance is a service that every homeowner benefits from. It should be done once a year—preferably before you need your heater for the season. But it matters more that you are consistent with scheduling a maintenance tune-up once a year.
During this service, our technicians thoroughly inspect your heating system, cleaning and checking for any signs of disrepair or components that need adjusting. Managing these issues right away rather than neglecting them helps your heater to not only perform more efficiently, but it also reduces the risk that you'll run into a sudden breakdown this winter.
Now, onto the rest of our heating efficiency tips!
Change the Air Filter
If you have forced-air HVAC systems in your home, this means there's an air filter in their ductwork. You may think it's there to protect your indoor air quality. Maybe you have other indoor air quality systems in place and don't see why you need to change the air filter that comes standard with your cooling or heating system.
Well, that air filter is actually intended to protect the system itself, not your indoor air quality. It prevents dust, dirt, and debris from reaching the internal components of the system. If these particles do make it into your heater, then it will cause it to work less efficiently since it will be working harder to do its job.
Turn Down the Thermostat!
We get it, this probably sounds like counter-intuitive advice. Sure, it doesn't get as cold in our area as other parts of the country, but given the baseline of our weather the majority of the year, our winters absolutely require a high performing heater, right? So why would you want to turn the thermostat down?
The fact of the matter is, during winter, and during summer, most homeowners have their thermostats set too high or too low because they think that will condition their home faster. On the contrary, it just uses up more energy, and then in the wintertime you could end up with a home that is too warm and stuffy as a result. Typically, 68°F is an appropriate setting for most household members.
Use Your Ceiling Fans
"Wait, isn't this a summertime tip?" you may be wondering. Well, it is, but the concept can be applied to winter as well. Fans alone cannot cool or heat your home independently but you can flip a switch to reverse the direction of your fan blades so that it helps evenly distribute the heat coming from your forced air heating system.
This allows you to turn the thermostat up a bit as you'll feel warmer. As a result, you'll be using less energy from your heating system, thus saving you money.
Comfy Heating & Air Conditioning Inc. is your trusted resource for heating services in San Ramon and the surrounding communities. Contact us today!