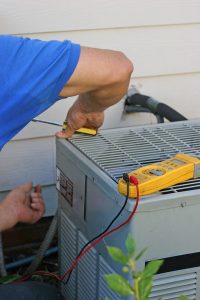 As we move out of the cooling season into the heating season, many people are busy getting their homes ready for winter. Before you fully switch over into heating mode in your own home, however, it's not too early to think about preparing for next summer. If you think you might need a new air conditioning system for next summer, now is a great time to look into some of the options available. You might even be able to find a system that could help you this heating season, as well. Let's look at some of the air conditioning options available on the market.
Central AC
Central air conditioning is the most popular kind of AC for a reason. It's affordable, versatile, effective, and most homes are already outfitted for it. It's not a perfect method of cooling, of course. There are times when applying centralized air conditioning to certain homes results in hot and cold spots. For the most part, though, a central air conditioner is a great option if you're looking for a good middle of the road cooling solution.
Heat Pumps
A heat pump is constructed much like a traditional split central air conditioner in a lot of ways. There are two separate units, one installed inside and one outside. During operation, one unit evaporates refrigerant to absorb thermal energy while the other condenses it to vent this thermal energy outside. The main difference between a heat pump and an air conditioner is that a heat pump contains a reversing valve. This valve lets the heat pump change the direction that refrigerant flows through the system, resulting in being able to switch back and forth between heating and air conditioning functions.
Homeowners tend to install heat pumps because they're interested in saving money and space on climate control without sacrificing output. After all, relying on a single climate control system throughout the year is more efficient than having one system for heating and one for cooling.
Ductless Mini Splits
A ductless mini split is a heat pump system, but one that doesn't use ducts. You may have already guessed that, but it still bears repeating. Instead of making use of ducts, a ductless mini split system makes use of a number of air handlers installed throughout the home. Each air handler has its own thermostat, allowing it to operate independently from the rest of the system. Up to four air handlers can be connected to a single outdoor unit.
The unusual construction of the ductless system as compared to others grants both advantages and disadvantages. Ductless mini splits offer greater control over your climate, since you can set an ideal temperature for each room. They also provide both heating and air conditioning functions, just like other heat pumps. The downside is that ductless systems provide less coverage than centralized AC systems in a number of cases.
Comfy Heating & Air Conditioning Inc. offers comprehensive air conditioner installation services in Fremont, CA. If you need air conditioning services of any kind, contact us today to schedule an appointment.