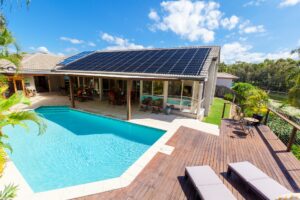 This blog is looking towards the future, since we're still really using our air conditioners. Temperatures like to be high and remain high in our neck of the woods, so we're not at the point where we can turn them off yet. But air conditioners do need to be treated like any other seasonal appliance, and put into hibernation correctly.
Did you know that your AC can be swarmed with particles, pests, sticks, pebbles, and other problematic materials that can harm it when it's not even running? This is what we're going to cover in today's blog, and we're also going to discuss services like maintenance and some materials that can help you preserve your AC's condition even when you're not using it.
For now, keep those compressors going, and be prepared for the season to change so you can help hibernate your air conditioning in San Ramon, CA!
Invest in an AC Cover
Air conditioners are sensitive machines. Their exterior casings are robust and usually made out of durable metal to handle weather events, but that doesn't mean that they should endure all of the weather we get. If you're not using a car, it's usually a good idea to put it in a garage, right? Well, the same thought can be applied to your air conditioner.
AC units that are not being used can be covered, either with a tarp or with a high-quality AC cover that can keep it protected from debris, weather, and even pests. The important thing we're trying to get across here is that an air conditioner is vulnerable when it's sitting outside of your home and not being used. Why not add an extra layer of protection so it's in near-perfect condition when you activate it for the next cooling season?
Make Sure You Update Your Thermostat
Your thermostat is in complete control of your HVAC system, which means you need to adequately relay some information as seasons and temperatures change. If November arrives and you're ready to shut the system off for a season, make sure you set the system to "heat" instead of "cool" so the air conditioner doesn't sporadically turn on on warm days.
Also, many people have different thresholds for how comfortable their home should be in different seasons. Now that we're in fall, it's unreasonable to have your home stay 80 degrees throughout the entire heating season. Think about what temperatures your family would like the house to be around, and start setting your thermostat responsibly. The mid or upper 60s is a good place to start.
Invest in Maintenance
Did you miss maintenance this spring? Then fall might be the best time for you to invest in AC maintenance. Your air conditioner needs maintenance every year on a routine basis, which means that fall is a great opportunity to invest in this service. Our schedules start to open up, since temperatures aren't so terribly hot, so we can easily maintain your system so its ready for the next cooling season!
When in doubt, contact Comfy Heating & Air Conditioning Inc. for help with your AC!