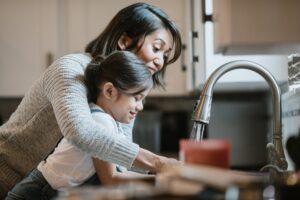 Your water heater is supposed to be there for you, day in and day out. You turn on your faucet and expect to purge a bit of cold water out, but then the hot water never comes. Either that, or it's just lukewarm. Is there something wrong with your water heater?
It's not always easy to know if you need water heater repair in San Ramon. If your water heater is still turning on and producing some level of hot water, then the problem may not be so on the nose. Instead, it could be a failing heating element that isn't doing its job in the same way that it was before. Let's help you find out if that's the problem.
There's No More Hot Water
Your water heater still turns on, but it doesn't produce any hot water at all. Your hot tap is running completely cold and it's not just purging cold water from the line.
This is the biggest telltale that something is wrong, and while that very well could be the heating element, it's difficult to say since there are no other indicators to go off of.
You need to call a technician and have them assess your unit to truly know what's going on.
Your Hot Water Runs Out Quickly
That heating element is firing up enough to get some hot water, but for whatever reason, it gives out before heating the rest of your tank's capacity.
This means it's still trying to pull some punches, but that heating element is on its way out. This most likely points to a replacement although a technician will be able to tell you for sure.
Your Water Isn't Really Hot, More Like Lukewarm
Wear and tear have taken your heating element down a notch. It's heating the water in the tank but only enough to achieve a lukewarm temperature.
You'll notice the temperature difference when you purge cold water from the line and wait for the water to heat up, but it stalls at lukewarm. Your heating element isn't up to the task anymore.
Constantly Tripped Circuit Breaker
Your circuit breaker keeps tripping and you have to reset it to give power to your water heater. This happens every now and again, but if it's a common occurrence, there's an issue.
Your water heater is trying to draw more power than it should because the heating element isn't bringing the water up to the temperature you set it at.
This is another telltale sign that the element is dying and needs to be replaced. By hiring an experienced technician to diagnose your water heater, you'll know for certain.
Time to Find Out What the Problem Is
Now that you know what your water heater's heating element could be going through, it's time to schedule a repair. It may need to be replaced or your tank may just need a good flush to remove all the mineral buildup that's making your heating element not work properly. Either way, without hot water, you shouldn't wait any longer.
Contact Comfy Heating & Air Conditioning Inc. today to schedule an appointment where our technicians will inspect, diagnose, and repair your water heater problems.