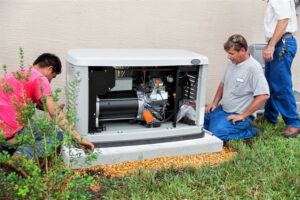 The power goes out across the entire town, but your generator kicks on quickly and restores power to your home. You're the only house that's lit up on the entire block, because you called for generator repair Walnut Creek residents can count on before your generator fell into disrepair.
It's good to be ahead of the curve, but it's difficult to be one step ahead when you don't know what problems to look for in your generator. These issues can become a nuisance if left unchecked. Here's what you need to know.
Coolant Leaks
General wear and tear or damaged areas of your generator can cause coolant leaks. Without the ability to cool down during power generation, your generator runs the risk of overheating and burning out multiple components. Cooling is a critical step in your generator's cycle.
It's not always clear when you have a coolant leak. Your generator may begin to run regardless, and that's when you run into problems from low coolant levels. Your generator may give off some sort of indicator during power generation that detects low coolant levels. Failing to fix the problem will lead to engine overheating and eventual breakdown if left unchecked.

Battery Failure
This is where you'll be glad you scheduled routine maintenance for your generator. As batteries sit still and aren't cycled, they can die. A battery should run and be recharged somewhat frequently to stay active, otherwise, it may fail you when you need it most.
During maintenance, technicians will check your battery level and ensure it's up to snuff. While a dead battery can normally be swapped out by a homeowner, it isn't as simple as just buying a new 12V and dropping it into place. Most generators require wet cell batteries, and they should be replaced by a technician to ensure that you don't void your generator's warranty on certain parts. That way the work can be verified.
Worn-Out Belts
Belts simply wear down over time. There's no avoiding it. While these aren't the most expensive parts to replace, running a generator with a bad belt can put stress on the bearings and cause additional damage to your generator. This is where annual maintenance comes in handy to prevent belt breakdowns. Belts should be replaced by a professional.
Bad Components
There's a lot of electricity flowing through your generator during use. A slight surge can destroy wiring or a smaller component of your generator, and parts will fade with wear and tear as well as time. Bad components aren't typically anyone's fault; they're just a symptom of use, but they still need to be swapped out so that your generator can work efficiently. Unless you possess the necessary skills and knowledge to replace electrical components in a generator, a technician will have to be called.
Don't Live With a Failing Generator
In short, you shouldn't fix these problems on your own unless you're licensed to do so. These fixes need to be completed by a qualified professional, especially if you're concerned about keeping your generator's warranty intact during service or repair. Your generator is there for you, just like we are.
Contact us today to diagnose and repair whatever issue you currently face with your generator.