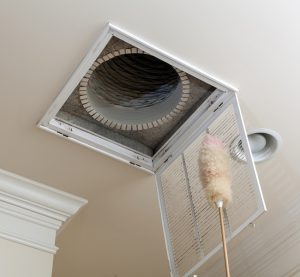 Most homeowners don't think much about the ductwork that snakes its way through their homes in the attic or crawlspace, let alone the importance of Hayward, CA duct cleaning. Your air ducts are responsible for moving conditioned air from your cooling system through the vents inside your home, and in the meantime they accumulate quite a bit of dirt and dust.
If left to build-up, even the smallest layer of dirt, dust, and other debris can create problems for your living space as well as your air conditioner. Before summer officially hits and we're bombarded with hot weather, now is a great time to catch up on some AC maintenance by scheduling a ductwork cleaning appointment with our staff.
The Duct Cleaning Process
Duct cleaning may seem like an arbitrary service to be concerned about, but it's actually quite beneficial. During a professional duct cleaning, our technicians will thoroughly clean the various components of your cooling and heating forced-air systems, such as the supply and return air ducts and registers, grilles and diffusers, heat exchangers, condensate drain pans, and the air handler unit housing.
Your ducts can, understandably, be hard to access, which is part of the reason we so highly recommend having this service conducted by a professional. Our trained technicians will use professional-grade vacuums and tools to make sure the cleaning is comprehensive.
The Importance of Professional Care
If an amateur service provider or overenthusiastic do-it-yourselfer doesn't follow the right procedures during duct cleaning, they could end up releasing even more dust, dirt, and other contaminants into the home than would have occurred if you had just left the ducts alone. Professional HVAC care helps you avoid many problems with your systems.
Just How Advantageous Is Duct Cleaning?
Thoroughly cleaned ductwork adds efficiency to your HVAC system. In fact, the Environmental Protection Agency (EPA), estimates that even removing just 4/10 of an inch of dust from your ductwork has the ability to reduce your monthly energy use by as much as 20%. This is because any airflow issues you were having due to the buildup have been eliminated.
Clean ductwork can also increase the lifespan of your HVAC system. The system of ducts connecting your forced-air heating and cooling systems to your home are under an immense amount of stress, and this strain can make them age prematurely if not cared for properly. It's important to keep all aspects of your system running as efficiently and effectively as possible to avoid premature breakdown or operational problems.
One final advantage of having your air ducts professionally cleaned is the fact that you'll be helping to lower your energy bills, as your heating and cooling units won't have to work as hard to do their jobs. You'll also be reducing the allergens that exist in your living space, providing your family with better indoor air quality. The spring is a great time to schedule professional duct cleaning, so don't hesitate to reach out to us!
Comfy Heating & Air Conditioning Inc. has the solution to any of your indoor air quality issues. Contact us today to learn more!